Hey Calgary. We're in love with your innovative spirit and ambitions for Calgary tech. As an indie company in the game's community, we hope you love us too.
Fintech, Agritech, BIZtech, BioTECH, GREENTECH. Love you all so muuuuuch…
Collectively, Calgary Startups brought in $561 million in deals in 2021. And Calgary is home to various companies reaching Unicorn status. Search Calgary Economic Development, and you will quickly find a collection of stories and data about our New Economy.
Calgary's energy is changing and a culture shift is happening.
I am a not-born-but-raised Calgarian and have lived most of my life in the city. So, believe me when I tell you its successes matter to me. And this new energy revitalizes me as a entrepreneur in the tech space, more specifically in games.
Red Iron Labs is a Calgary Tech Story
We entered Calgary's tech scene in 2016 with our first virtual reality game, Abduction. As in most cases, our game didn't blow up overnight.
Instead, we pushed forward and took contract work in virtual reality to keep paying the bills. With that, came more contracts, more experience, and a larger team.
Almost 7 years later, and the challenge we face now is how to pursue our goals and focus specifically on the games industry.
Our first step: connect with our city.
Our Roots and Identity are So Totally YYC
We Live, Work and Play in Treaty 7 Territory
We acknowledge the land in which we reside is the traditional territories of the Blackfoot Confederacy (Siksika, Kainai, Piikani), the Tsuut'ina, the Îyâxe Nakoda Nations, and the Métis Nation (Region 3).
We're also committed to actions beyond acknowledging the land. We are guided by the Truth and Reconciliation Commission's Call-to-Action #92. Specifically we:
Build respectful relationships and meaningful consultation with Elders and Indigenous communities for inclusive user experience design. E.g., working with Blackfoot Elders and members to create a Blackfoot Language app.
Provide training and support to Indigenous youth for equitable access to jobs, training, and education opportunities in the tech sector. E.g., work with organizations like IndigeSTEAM to provide training to Indigenous youth interested in tech.
Provide education to our team on the history and legacy of residential schools.
We Came out of Calgary's Startup Community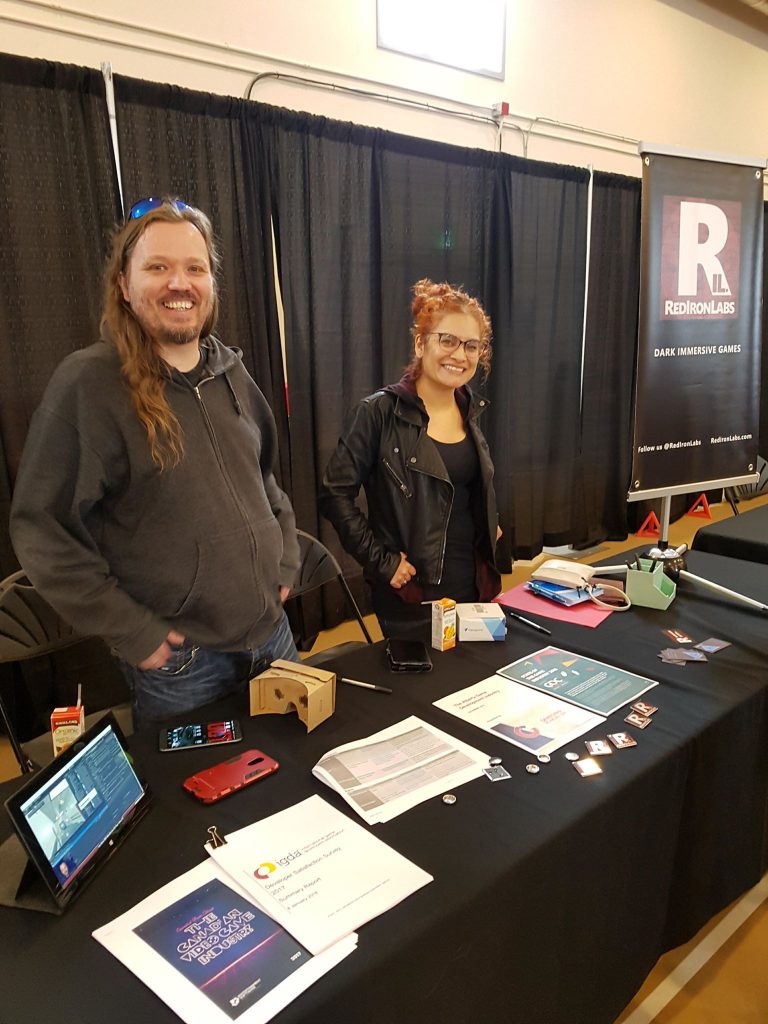 In Calgary, there is a new generation of visionaries, not only driven to make it happen, but making it happen.
As a student of culture, I'm here for it. Especially from this ground-level perspective where culture cultivates.
We're connected to this community through our networks, our history, and location.
We joined this community in 2014 working for a startup out of Assembly Coworking Space.
When we branched out to our own startup, we utilized our industry knowledge. Some of the groups we connected with included Startup Calgary, Digital Alberta, the A100, etc.
We've Always Represented in Calgary's Games Community
Building roots is important to Red Iron Labs. We have various team members who actively participate and support the Calgary Game Developers Association, which is part of Calgary's gaming community.
We've always been present, participating in events that celebrated the creativity of Calgary game developers.
There have been times when we've hosted the events. And other times when we've been guests speaking to our experience or demoing our games. But we've always stayed connected and represented the city we came from.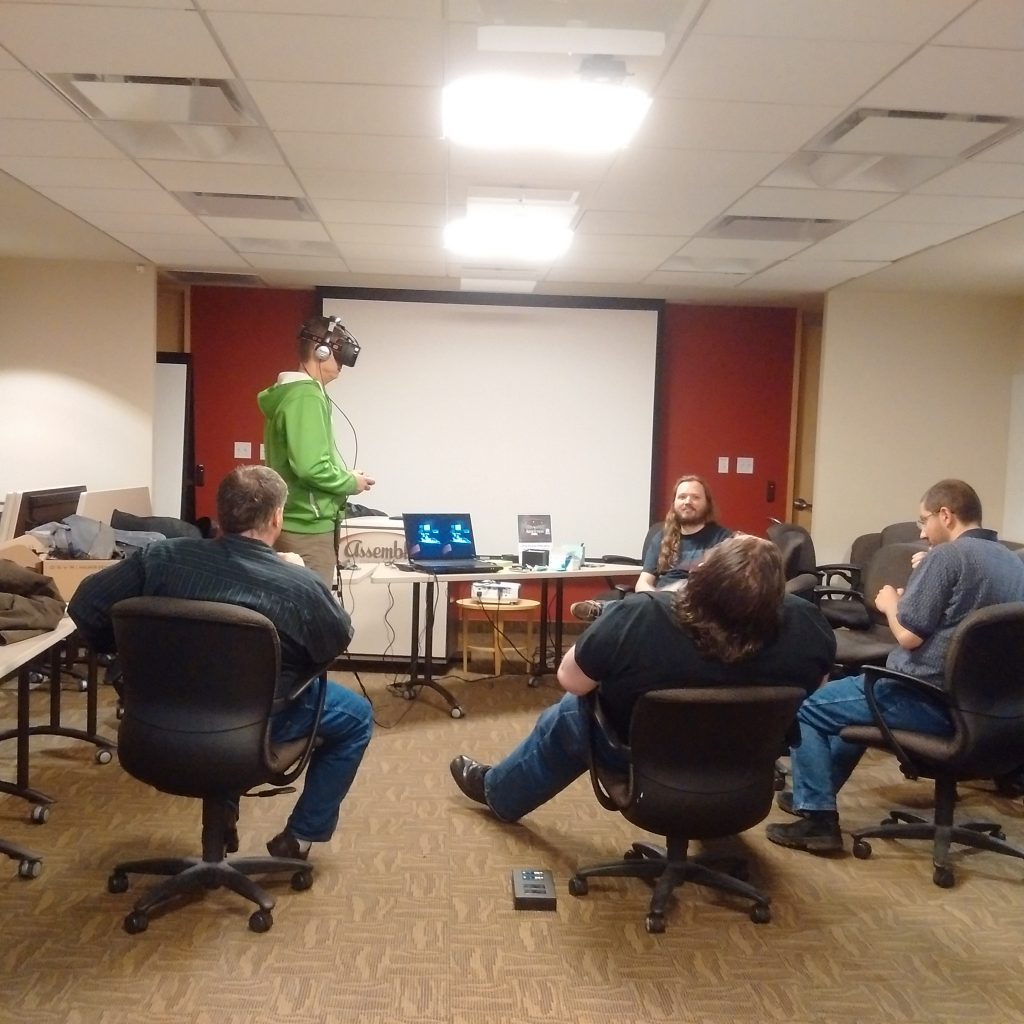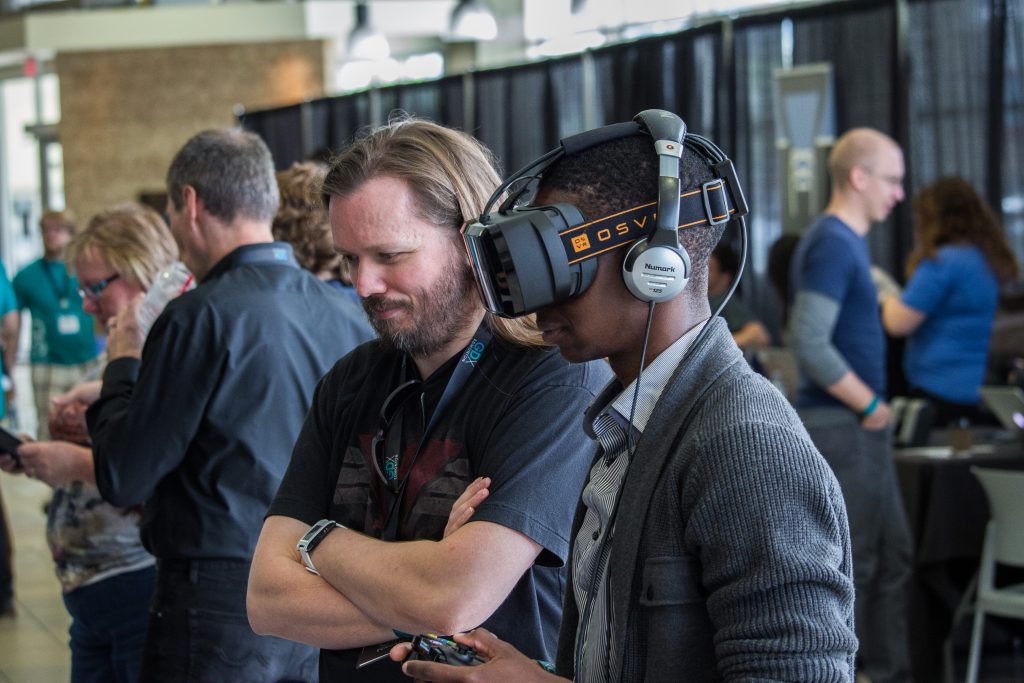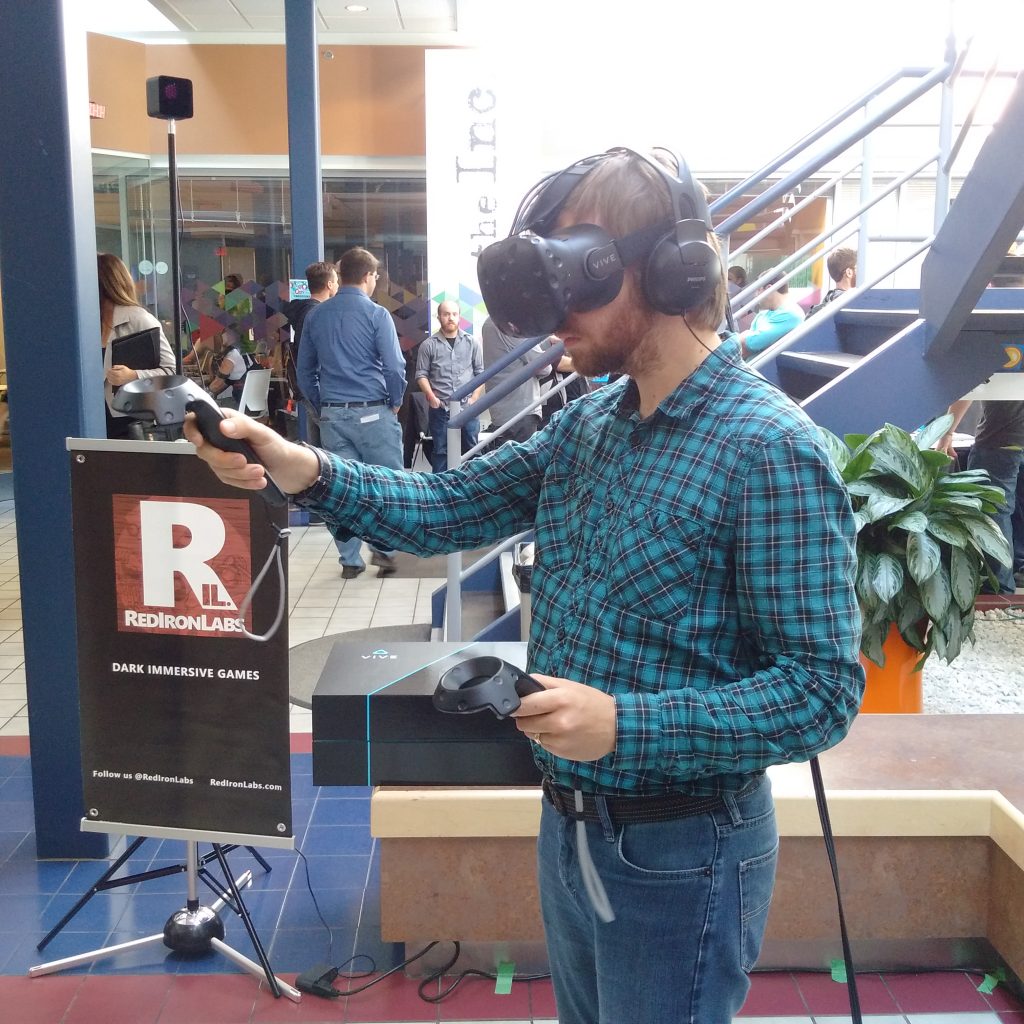 Finding A Niche in Calgary Tech
The benefit to our path is the opportunity that time provides— Time for:
Me to discover who I am as a leader.
Our company to develop a team culture.
And for us to dominate our skills in virtual reality and in games.
What makes us standout is our commitment to building a company that challenges the gaming industry. We have strong values connecting our processes, people and products.
A respect for the interrelation between technology and the humxn experience.
Since founding, we've:
Produced nearly 100 immersive experiences in virtual reality.
Worked with over 30 clients in the medical, education, games and industrial sectors.
Grown from our team of 2 (the founders), to a team of 10 including developers, artists, and business folx.
We also have been working on medical and education products. However, the games theory used is the foundation of all our experiences (i.e. gamification is key to our medical and education products).
There is also a huge opportunity in the Games Industry and to make Calgary a beacon in a world centered on creativity.
The Potential of the Games Industry
This is the space we've been exploring for almost 7 years – a space that continues to innovate.
A lot has happened since we entered the games industry in 2016. Although it has always been a strong industry as a whole, Alberta's presence has always been far behind Canada's leaders Montreal, Vancouver and Toronto.
According to the Canadian Video Game Industry Report, video game companies in Canada generated an estimated $4.3 billion in revenue in 2021 (20% growth from 2019). Globally, the Video Game Industry generated over US$176 billion.
The industry is primarily composed of Micro-sized (less than 4 employees) and Standard sized (5 to 99 employees) companies, which together comprise almost 95% of all video game companies operating in Canada in 2021.
So our studio size of ten aint to big, and aint too small!

Times are changing, and Alberta has increased its representation in Canada's game industry.
In 2021, there were 88 video game companies in Alberta. Around when we started Red Iron Labs in 2016, the numbers looked more like 25. To me, that shows significant growth in a matter of 4 years.
I wont go further into AR/VR and the Metaverse (because whew, that is a conversation for another day). You can read more about those trends in the GWI and Future Today Institute reports.
All this to say that we are a part of an industry that is making bank!
In January, Red Iron Labs will turn 7 and we've been realizing the direction we want to steer towards. We've been working hard to build our name and reputation as solid virtual reality studio with solid games theory application and knowledge.
Red Iron Labs 2023 and Beyond
2023 will bring change for our studio. We will begin to push our own products harder and showcase our skills in development.
We are expanding our portfolio to focus on:
Mass Multiplayer Online Battle Arena (MOBA) games in VR. Examples include Muffin Fight, Battle Birds, and a top secret game we will announce in 2023;
Metaverse concept spaces, such as Social VR and Cultivate; and
PlatformXR, which facilitates social interaction, access to experiences, and makes meaningful engagement between users.
We've set ourselves up to enter the next stage of our company for success. And, as we enter into 2023 we are focusing on 4 key goals:
Expand visibility and support in our hometown of YYC.
Increase the number of members in our Discord server to 1000.
Build a community around our MOBA games.
Reach 10,000 players on Muffin Fight.
Our studio was founded on experimentation and taking a leap. One of our values is courage over confidence and that's how we continue to tackle the game industry.
7 Ways You Can Support Red Iron Labs
Family, friends, fans, champions, mentors and peers— we thank you for pushing and encouraging us everyday. We wouldn't be here today if it wasn't for your support.
Here are 7 ways to help and share in our vision:
Here's a montage of how you can support. How many of these will you tap to become a superfan?
About Red Iron Labs
Red Iron Labs is an indie studio located in Moh'kinsstis (Calgary) on the traditional territory of the Blackfoot Confederacy (Siksika, Kainai, Piikani), the Tsuut'ina, the Îyâxe Nakoda Nations, and the Métis Nation (Region 3).
We make virtual reality games, platforms and content.
Founded in 2016 by Rosalinda Hernandez and Lloyd Summers, Red Iron Labs was founded on the passion for technology and experimentation, and grew from a respect for the humxn experience.
At Red Iron Labs, we:
Are a woman-led company focused on incorporating innovative design through an intercultural lens.
Actively work with community members to find leverage points for inclusive design.
Advocate for building a stronger digital movement in Alberta, particularly in the games and XR space.
We are mindful of our impact and in our projects, and are actively committed to equity in technology and economic reconciliation through the TRC's Calls to Action #92 and the UN's Sustainable Development Goals.