At the click of a button, you can use Nvidia's GauGAN360 to quickly draw a 360 image of the world. Alternatively, with text-input, you can also generate a free 360 environment through Blockade Labs.
Note: The Nvidia GauGAN360 page seems to be offline at the moment, with the github repository now a 404, this sample may no longer exist. As a free text-to-360 alternative, Blockade Labs is super cool, and does the same thing … with less clicking.
If you've followed the recent automatic generation of AI images, you may already be familiar with GauGAN (something I started experimenting with after meeting Evan Pearce who has a passion for AI art).
If you are interested in stylized AR art, stop reading this now and go follow Evan. He's amazing and you won't regret it. #backontopic
AI 360 Images are great – you can get started creating them here or here. And here are a few interesting examples.
How it Works
The way it works, is you draw an image using a very simple version of an online paint program, and then with the magic of AI it creates a photo for you!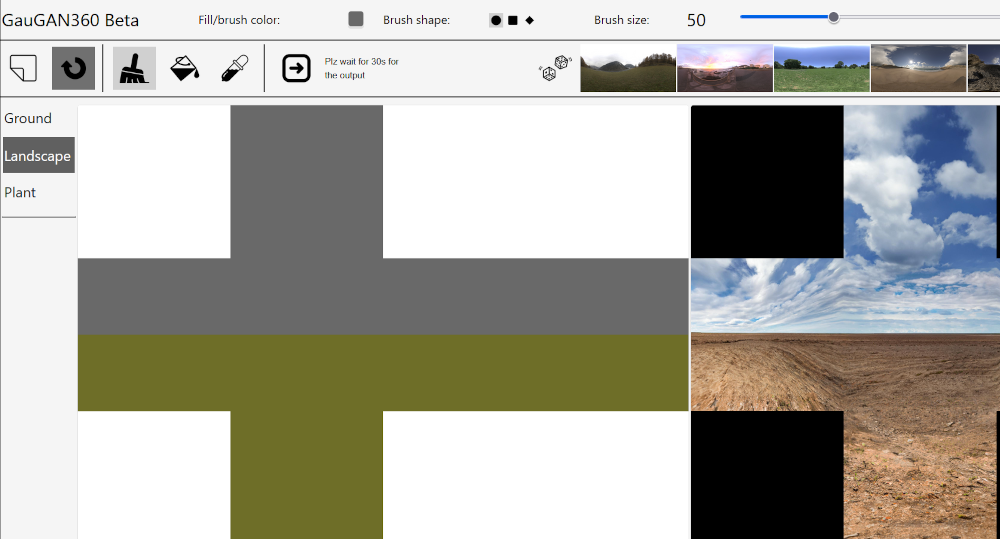 Caution: These examples won't look very good on mobile I'm sorry, I just can't help you.
Dotted Clouds
Putting this to practice, I tried drawing dots for clouds to see how it would render them in a real looking environment.
I drew this:
Which generated this:
Tree In The Distance
In this example, I tried to draw only a tree on a simple floor in the distance. It captures well how it draws things in the distance.
Ocean in the Sky
This one is interesting, as it is only two fills. What the world would look like with an ocean in the sky, and a cloudy base on the floor.
360 Rocks
For this set, I went for a simpler sun & rock base. I found it generated a lot more believable photos using just simple designs.
Surreal World
In this section, I tried to use a variety of drawing tools to see how it would create an abstract space. I asked for clouds in the sky, and a fog in the distance with a myriad of different plants, hills and mountains.
The Blockade Labs Alternative
There are other AI generating 360 engines out there, also for free, that are also quite interesting. One possible alternative is Blockade Labs.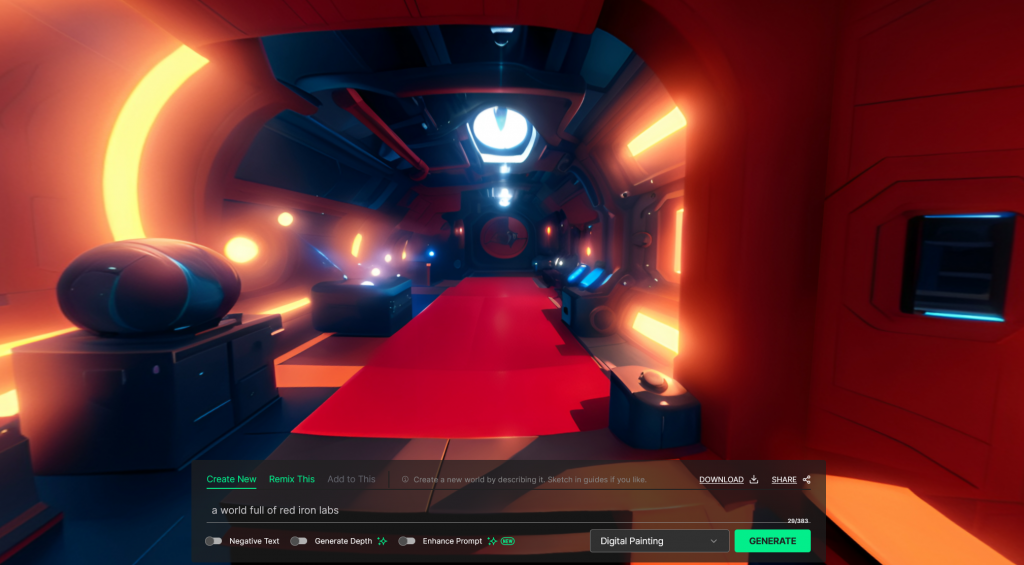 As we like to say at #RedIronLabs, we are in an interesting world where we are seemingly limited by our creativity (not by the technology). I hope this was helpful, and it helps you bring AI tools into your workflow.